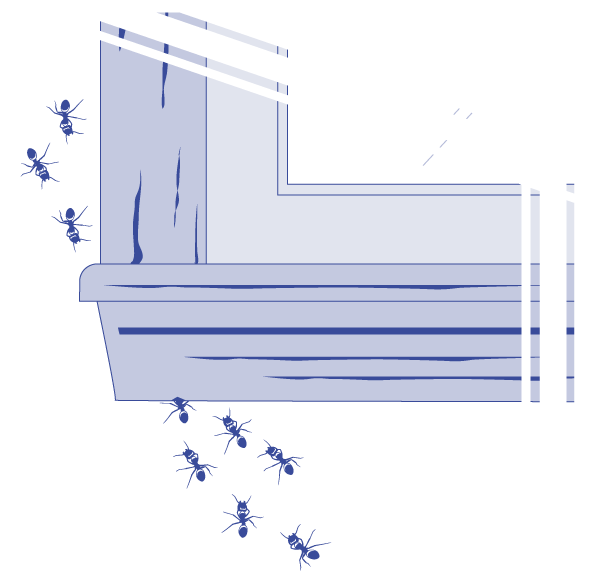 Identification
Any of the below signs would indicate that you have a Carpenter Ant nest within your dwelling.
Black Ants during cool or cold seasons, late October - early June
Saw dust or damaged wood
Black ants following each other in a line or single ants using a regular pattern within your home.
Treatment
When it has been determined that you have a Carpenter Ant nest inside your home, the best solutions is to find the colony and destroy it. There a several different ways this can be done. The method chosen is often decided with a phone interview or site visit. Most Carpenter Ant problems require drilling 3/16 " holes and dusting with Boric Acid. This may also be coupled with a residual treatment with the least toxic pesticide. Note: For customers that may not be comfortable with use of pesticides I can often target key areas and limit the use of product with great success.
Customer Preparation
Very little prep is required. Generally if the customer and I determine an approximate location of a nest over the phone, I will ask to have clear access to that area for treatment. If you have young children I ask that all toys be "tidied up" and removed from the wall.
Safety
If you require a residual treatment I ask the following:
Everyone is out of the home for 4 hours after the treatment is completed, this includes pets. I recommend that children under the age of two, women that are expecting or people with severe medical conditions stay out for 24 hours.
What to Expect
After your treatment, the number of healthy live ants you see should be drastically reduced within the first 12 hours. After this, you will find only dead or sickly ants and with the passing of time these should drop off to no sightings at all.
Warranty
Two warranty options are available for Carpenter Ants:
• Six month
• One year
Some nests locations are very obvious and with great confidence I know that I have destroyed the colony. When this happens a six month warranty is the best customer value. When the interview process and site visit do not point to a definite location, it maybe cheaper to go with a longer warranty that will last into the following season.
Other Ants
I also provide control programs for Acrobat, Pavement and Pharo Ants as well as preventative treatments for owners of log homes.